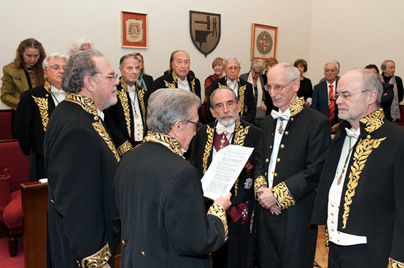 The philologist and linguist Michael Metzeltin, Professor at the University of Vienna, has admitted this afternoon as Austria Corresponding Academician to the Real Academia de Ciencias Económicas y Financieras of Spain (RACEF) during a solemn session which was held in Barcelona. The recipient has read the inaugural address "The language as the language economy" where he equates the semiotics of the economy with natural languages. The Vice-President of the RACEF, Lorenzo Gascón, responded on behalf of the Academy.
"As the economic and financial sciences try to explain how the recognition and processing of material and immaterial resources without which there can be no human society, linguistic science tries to explain how they work recognition and symbolic resources processing work", began his speech the new academic.
Born in Sorengo (Switzerland) in 1943, Metzeltin is PhD in Philology, French Language and Italian Literature. Since 1989 he has been Professor of Linguistics and Teaching of Romance languages ​​at the University of Vienna and he's a member of several international academies. He has published 32 monographs and over 200 articles on topics of Romanesque linguistics, Hispanic studies, discourse analysis, textual anthropology and identity issues, and is co-founder and co-editor, among other things, the Lexikon der Romanistischen Linguistik, the Romanistisches Kolloquium and Cinderella Collections.