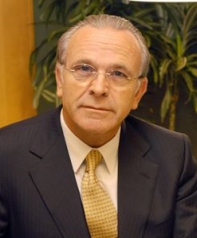 This afternoon at the French Embassy in Madrid Isidro Fainé, Academician of the RACEF, received the award of Knight of the National Order of the Legion of Honour of France "for his efforts in strengthening the economic and business ties and relations between France and Spain".
As Managing Director and President of La Caixa, Fainé promoted the entry of its subsidiary Criteria into the capital of the French firm Boursorama. Fainé is also President of Agbar, controlled by the French group Suez..
The Solemn Acts was also attended, among others, by the Minister for Defence, Carme Chacón; the Minister for Agriculture, Miguel Sebastián; the President of Telefónica, Cesar Alierta, and the President of El Corte Inglés, Isidro Alvarez.