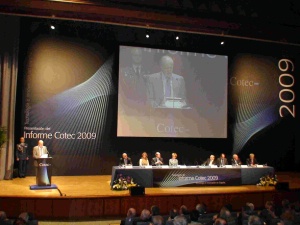 His Excellency Dr. José Ángel Sánchez Asiaín, Academician of the Real Academia de Ciencias Económicas y Financieras (Racef) and President of the Cotec Foundation,  invited businessmen and the Government to give a new and increased expansion in innovation and development policies and in professional training in order to be able to face, with certain guarantees of competitiveness, the post crisis scenario. Sánchez Asiaín made these statements during the presentation of the annual report of the foundation which was held in Madrid last June 9 in the presence of H.M. King Juan Carlos; The First Vice-President of the Government and Minster for the Presidency, Her Excellency Ms. María Teresa Fernández de la Vega¸ the Minister for Education, Social Policies and Sport, His Excellency Mr. Ángel Gabilondo; and the Minister for Science and Innovation, Her Excellency Ms. Cristina Garmendia, among other outstanding personalities.
Sánchez Asiaín recalled in his presentation that the Spanish innovation system is still very small in size but ordered and very solid. Some 11000 firms base their activities on technology and innovation, expenses in R&D exceeded 13000 million Euros in 2007 and the number of researchers exceeded 130000. "These firms are the starting out point of the new model for growth that we are aiming at" he explained.
The President of the Cotec Foundation also mentioned the fact that year after year  specialists have been warning that "the greatest problem of the Spanish economy was the lack of competitiveness" which has a notable incidence on competition and the commercial deficit. In order to overcome this situation with success, Sánchez Asiaín also called for small and medium sized companies to become aware of fact that they must increase their levels of technology and improve education at all levels, in accordance with market requirements. "We have a very deep hole in professional training - assured the Academy Member – its teaching must be simplified and redefined, starting out by business requirements. Likewise a further great challenge has to be met and that is an important structural change which will be slow and difficult, but above all else work must begin here and now: increase the technological level of these firms".