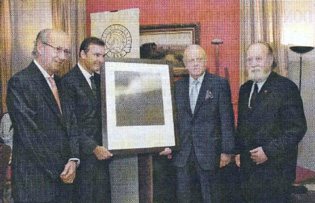 His Excellency Mr. Emilio Ybara Churruca, Full Member of the Racef and ex-President of the BBVA Banking Group and of the BBVA Foundation was awarded today by the President of the Círculo Ecuestre, Mr. Borja García-Nieto, the prize for Civic Values for 2009 that is given annually by the prestigious Barcelona club, "for his civic work and service to Spanish civil society".
The award is in recognition of the tenacity and efforts of His Excellency Mr. Ybarra in all fields of his activities, actively participating in multiple philanthropic projects and in the promotion of cultural events, as Head of the BBVA Foundation as well as from his private sphere. To his multiple managerial abilities in the banking field, are added the numerous decorations received, amongst which stand out the Great Crosses for Civil Merit (1967) and the Order of Isabel la Católica (2002).
Present at the act were numerous businessmen and personalities from Barcelona such as His Excellency Mr. Juan Antonio Samaranch, Marques of Samaranch, Mr. Leopoldo Rodés, Mr. Carlos Güell de Sentmenat, and Ms. Mar Raventós, amongst other personalities. Previous winners of this award were His Excellency Mr. Antonio Samaranch, Marques of Samaranch, Messrs. José Baselga, Calos Sentis, José Angel Sánchez Asiaín, Claudio Boada, Plácido Árango and Santiago Dexeus and Her Excellency Ms. Paloma O'Shea, Marques of O'Shea.